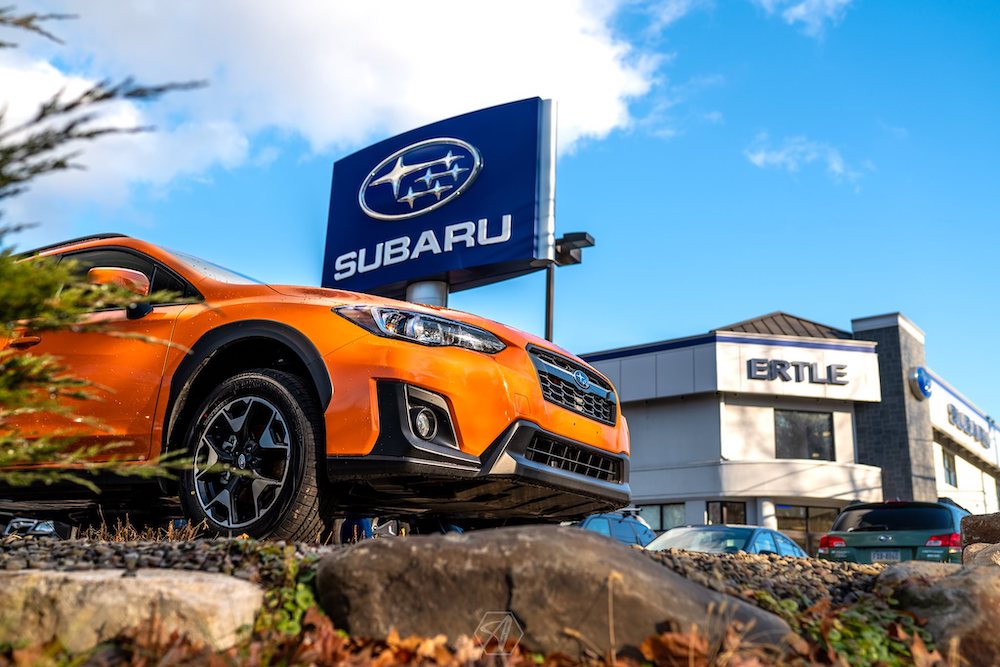 If you are in the Wilkes-Barre, PA area searching for a Subaru dealership to assist you with all your automotive needs, Ertle Subaru is the dealership that makes it easy and gives you more.
Whether it is shopping for a new or used vehicle, scheduling a service appointment, inquiring about our financing options, or anything else Subaru-related, it is our pleasure to help to make the automotive experience and process that is easier for you. When you choose Ertle Subaru as your sole-dealership provider you can have access to the following: 
Robust New and Used Subaru Inventory Selection
Professional Financing and Maintenance Services
Free Same-Day Home Delivery 
Lifetime Powertrain Warranty
Service Pickup and Delivery
Free Lifetime State Inspections 
Price Match Guarantee
Along with other services and benefits, learn more about how Ertle Subaru serves our Wilkes-Barre customer shoppers to their full satisfaction.
Why Choose Ertle Subaru Near Wilkes Barre?
New and Pre-Owned Subaru Models for Sale
When you are shopping for your next new and used Subaru sedan or SUV, Ertle Subaru provides you with various options to shop for a car that is right for you. We welcome all of our Wilkes-Barre area customers to visit us in person or you can shop and purchase your Subaru online with our express store.
We also encourage you to place a special custom order where you can get down to the specifics of trim levels, color, model, accessories, and much more. Part of our unique car buying experience is our new Home Delivery service within a 150-mile radius of our dealership. 
Our free same-day Home Delivery program purchase, and receive your new Subaru while in the comfort of your home.
Professional Finance and Maintenance Services
Part of the reason why the Subaru shopping, buying, and experience with Ertle Subaru comes with ease is due to our knowledgeable and experienced professional services in the finance and service department.
When you find the Subaru that is right for you, our finance department will work closely with you to create a financing plan that works best for you. You can get pre-approved quickly and help you find the best rates. If you have thoughts about selling your car or adding a trade-in value to your purchase, we are also ready to lend a helping hand in the process.
For all inspections, repairs, and replacements, our trained technicians in our service department will supply your beloved Subaru with the utmost care and attention to get you back on the road. Routine maintenance is important for your vehicle and our team is ensure your safety is a top priority.
Visit Our Subaru Dealership Near Wilkes Barre
Our Subaru dealership near Wilkes Barre welcomes you to visit us as our goal is to not sell you a vehicle once, or service your vehicle once, but to earn your business for life. 
Ertle Subaru from Points North (Wilkes-Barre/Scranton) follows these directions: Take I-380 S toward Mt Pocono/Milford. Keep right to take I-380 S via EXIT 4 toward Mt Pocono. I-380 S becomes I-80 E. Merge onto PA-611 via exit 303 toward Ninth Street. Ertle Subaru is on the left.
If you have any questions or would like more information, please don't hesitate to contact the Ertle Subaru team. We look forward to hearing from you soon!