The 2020 Subaru Love Promise Community Commitment Award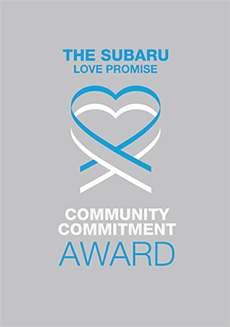 We've been nationally recognized for our dedication to our community and the Subaru Love Promise.
We're honored to receive the 2020 Subaru Love Promise Community Commitment Award. This award nationally recognizes Subaru retailers who are making the world a better place while demonstrating an outstanding commitment to supporting passions and causes in local communities. These efforts are focused in important areas such as the environment, community, health, education, and pets.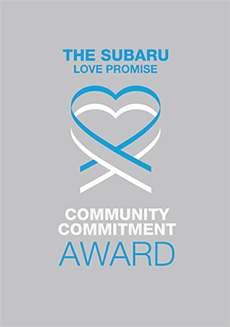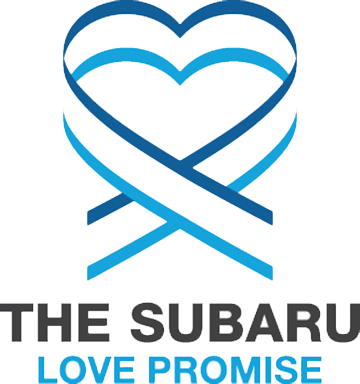 What is the Subaru Love Promise?
Subaru and our retailers believe in making the world a better place and the Subaru Love Promise is our vision of respecting all people. This is our commitment to show love and respect to our customers and to work to make a positive impact in the world.
How is Ertle Subaru dedicated locally to the Love Promise?
Our Love Promise can be seen in various partnerships with local charities and non-profits. We're grateful for the opportunity, not only to be a part of our community, but to serve it as well.
Animal Welfare Society of Monroe (AWSOM , Camp Papillon Pet Adoption & Rescue, AWSOM Animal Shelter
Joseph DeVivo Memorial Scholar, Developmental Education Svcs, Tobyhanna Little League, Monroe County Arts Council, Stroudsburg Wrestling Boosters
United Way of Monroe County, Meals on Wheels of Monroe Cty, Salvation Army, Knights of Columbus, St Paul's Lutheran Church
Hughes Cancer Center, Pocono Medical Center, American Red Cross, American Cancer Society, Friends of Hospice
Love Promise Stories from Ertle Subaru
Subaru and Ertle Subaru believe in making a positive impact on the communities in which we live and work. We uphold that belief through our Love Promise Community Commitment. Every month, we select inspiring stories from customers and partners from around our area who strive to support our collective commitment and feature them here
Ertle Subaru helps prove COVID Can't Beat Caring! - Ryan L
With special thanks to Ertle Subaru, we can count on having some additional funds to help our programs that because of COVID we struggled to raise. As non profit agencies we count on our connection with the public to be able to put together fundraising efforts to help support our programs. This year is was made close to impossible due to COVID-19 and social distance regulations. Having Ertle Subaru choose us to benefit from the Share the Love event this year was such a blessing! Not only were they able to get great vehicles to the public but allow the public themselves to give back to their community. Many people didn't have extra money this year to give to charities. This event helped everyone! The funds from the Share the Love event will go to support our community programs helping to provide Healthy Food Access, Access to Quality Education and Help with Financial Stability. We love anytime we can partner with the Ertle Family! This event helped people Be the Reason Monroe County stays strong during this crisis!
---
Thanksgiving Blessings! - Karena T
On Nov. 21, 2020, Ertle Subaru came to the West End Food Pantry to bring cheer and Thanksgiving to 358 local families. They brought their staff and their smiles to personally hand out turkeys and fresh potatoes to each family that came through the line in need that day. We gave out food for 3 hours on this early Saturday morning in the cold; and from beginning to end, Jim and his staff never grew weary, but continued to offer words of cheer to each and every client. Personally, I have heard the words of gratitude directly from many clients. 282 senior citizens on a small, fixed income received turkeys that day and a few expressed that the turkey would fill their bellies for weeks to come. One senior told me her grandkids were coming over for Thanksgiving and she was so worried she wouldn't have any food to give them except a can of soup. She said she was so blessed when she left the pantry with a whole turkey and all of the fixings. She slept well that night and got up bright and early to start preparing their holiday meal. Food insecurity is a real problem in our rural area. Add COVID to the equation, you have hundreds of families worried about their next meal every single day. Thanks to Jim and his crew because not only did they give a meal, they took tremendous stress off of those that would have gone without during this holiday. Adding a little family time and a little joy is what Ertle Subaru brought on Nov. 21 to the West End Food Pantry, which is indeed priceless. I can't express the impact that Ertle Subaru's generosity means to all of my neighbors and friends in need!
---
Monroe County Meals on Wheels & Ertle Subaru - Stacey K
Monroe County Meals on Wheels provides each of our clients with a gift during the holiday season. These gifts are donated by members of the community. This year because of an increase in the number of clients, our gift delivery was done by members of our "Santa Squad". These volunteers took gifts to over 280 clients during the holiday season!Ertle Subaru General Manager Gus Wadsworth & Eugene Williams, Ertle Delivery Truck Driver, volunteered their time and joined our "Santa Squad" volunteers in delivering some much-needed holiday cheer to our clients. Many of these clients are home bound and live alone so they really appreciated this special delivery. Ertle Subaru & it's employees continue to be strong supporters of our organization through their participation each year in the Share the Love Event and our other fundraisers. We greatly appreciate their continued support!
---
Subaru Loves Pets - MaryLynn K
During the Subaru Loves Pets event in October, Ertle Subaru worked with Camp Papillion to help raise awareness to getting animals adopted. Through the event we were able to help get 16 dogs adopted at the shelter. Stella a Border Collie age 5 was adopted from Camp P when she was just a tiny puppy. Sadly, her family had a crisis that prevented them from being able to care for her anymore. In Stella's home she acquired a canine companion named Thomas, a mini poodle. They were both surrendered to Camp P for rehoming. It's incredibly challenging to adopted out bonded pairs; this is especially true when breeds are so different. But the right person stepped up and helped us avoid a long stay at the shelter or worse separating them. We're happy to report Stella and Thomas were adopted by a new family just a couple of days after arriving. They are reportedly thriving. Thank you Ertle Subaru for your support.
---
Thanksgiving for Families in Need - Karena T
Ertle Subaru stepped forward in a big way to help our local community on Nov. 16th in Kunkletown PA. Teaming with the West End Food Pantry, the Ertle crew provided turkeys and all the fixings which included canned sweet potatoes, gravy, cranberry sauce, vegetables, dessert and even real potatoes to 335+ families in need. The Ertle crew not only arranged the purchase of the amazing donation, they stood out in the cold for 3+ hours personally handing turkeys and 5 lb bags of potatoes from the back of our box truck. When we knew we were going to run out of supplies, Jim hopped in the Subaru and went to pick up more at the local grocery store. The best feeling in the world came when a mom gave me a big hug and said her kids would have a Thanksgiving meal this year. Thank you Ertle crew for your generosity, commitment to community and being the best possible neighbor. From the West End Pantry volunteers and clients: thank you and we love you!
---
Ertle Subaru & LLS spread love! - Gracie G
On Tuesday, June 11 The Leukemia & Lymphoma Society Eastern PA Chapter and Ertle Subaru had the pleasure of delivering 80 blankets and several arts & craft kits to the Dale and Frances Hughes Cancer Center as part of the Subaru Loves To Care program. These comforting gifts were accompanied by personalized messages of hope written by the customers and staff of Ertle Subaru. This incredible act of generosity was warmly received by the Dale and Frances Hughes Cancer Center staff who were thrilled to distribute these comforting gifts to their patients. Many thanks to everyone at Ertle Subaru and the Dale and Frances Hughes Cancer Center not only for a memorable day, but for supporting LLS's mission to cure blood cancers and improve the quality of life of patients and their families.
---
Ertle Subaru Shares the Love - Jessica K
Ertle Subaru has become a wonderful community partner for The Leukemia & Lymphoma Society in Eastern Pennsylvania. The staff at Ertle Subaru have dedicated their time and energy and raised critical funds to support the mission of LLS. Their enthusiasm and passion for creating a world without cancer is evident and their donation of $9,588 benefits cutting edge research, as well as local patients and families. We are truly grateful for all they do to support LLS and our patients within the greater Lehigh Valley.
---
Autism Awareness Walk - Jason H
My son Braxton Hines was diagnosed with being non-verbal autistic when he was 3 years old. Having to deal with a non-verbal child is very challenging, to say the least. Whether its stopping him from hurting himself, or not being able to go do everyday things like normal families can do. Communication is very hard with Braxton. If something hurts or he doesn't like something, or even if he wants something he can't tell you. I never heard my son tell me he loves me. But with his huge smile, I know he does. Our family has been dealing with this for three years now. Braxton is making huge strides in communication with extra therapy and speech classes. Last year was our first attempt in doing an autism walk. We did ok raising money for his walk but this year was going to be much different for us. I now work for Ertle Subaru in Stroudsburg P.A. This is a fantastic family-owned business. This Staff is amazing with all the support they gave us. They donated for every car we sold, they shot videos, we even had customers donate to this great cause. Then our owner and fearless leader Jim Ertle declared that he would match any amount his staff could raise for the Autism Awareness walk in the Lehigh Valley. Let's just say we were in the top ten in money raised for the walk and got to hear my sons name called at the event. I must say there was a lot of pride that day. I would like to thank everybody who helped make this proud day happen for us. For my Family, my friends, my neighborhood and My Ertle family, I can not begin to thank you for all you have done for my son.
---
Providing holiday cheer to Meals on Wheels clients - Stacey K
In December 2018, Ertle Subaru held the 2nd Annual "Stuff the Trunk" event for Monroe County Meals on Wheels clients. During the month, customers and staff donated a variety of items including mugs, puzzle books, blankets, and toiletries. The total collected this year far surpassed the previous years. Enough items were collected to provide holiday gifts for over 150 Meals on Wheels clients, many of whom are homebound and live alone. They were so happy to receive these gifts. One client in a thank you note exclaimed, "I can only thank God for all they gave me. I must have been a very good girl". Monroe County Meals on Wheels provide nutritional support and a human connection to older adults and the homebound. In 2018 we served over 100,000 meals to 399 individuals. We continue to strive to provide more than just a nutritious meal and events like this enable us to achieve that goal. A huge thank you to Ertle Subaru, their employees, and customers for once again helping us bring some holiday cheer to our clients.
---
Ertle Subaru & LLS Love to Care - Jenn P
The Leukemia & Lymphoma Society (LLS) of Eastern PA and Ertle Subaru joined together on June 26th, 2018 to share love, comfort and warmth through blankets for cancer treatment patients at Dale and Frances Hughes Cancer Center. While delivering the blankets, we were invited in to meditation room and visit two patients who were doing yoga. Nick from Subaru had the opportunity to share why Subaru is so invested in patients through their "Love to Care" initiative. It was wonderful getting to hear everyone's stories and to have the opportunity to personally deliver their blankets. We also had the chance to deliver blankets to patients who came through the waiting room and hear their stories. On behalf of all the patients and families served, thank you Ertle Subaru!
---
Stuff the Trunk - Monroe County M
Ertle Subaru holds "Stuff the Trunk" Event for Meals on Wheels In December 2017, Ertle Subaru held a "Stuff the Trunk" event for Monroe County Meals on Wheels clients. During the month, customers and staff donated a variety of items including blankets, puzzles, and toiletries. These items were used to provide holiday gifts for over 150 Meals on Wheels clients, many of who are shut-ins and live alone. These gifts were a bright spot for them during the holiday season. Some told us that it was the only gift they received this year! Monroe County Meals on Wheels provides nutritional support and a human connection to older adults and the homebound. In 2017 we served nearly 100,000 meals to over 400 individuals. We strive to provide more than just a nutritious meal and events like this enable us to achieve that goal. A huge thank you to Ertle Subaru, their employees, and customers for helping us bring some holiday cheer to our clients!
---
Subaru & LLS Team Up For Loves To Care Campaign - Monique R
On July 6, 2017, Ertle Subaru of East Stroudsburg and The Leukemia & Lymphoma Society (LLS) of Eastern PA delivered 80 blankets and care cards for cancer patients at the Dale and Francis Hughes Hughes Cancer Center in East Stroudsburg, PA. LLS and hospital personnel met Ertle Subaru to help unload the boxes of blankets to be given to the cancer patients as part of the nationwide Loves To Care campaign to help comfort patients receiving treatment. Each blanket has a note of HOPE personally written by customers who visited Ertle Subaru during the month of June. Some of the blankets were distributed at the time of the visit to patients. Although none of the patients wanted to come out to be photographed they sent their thanks to everyone. Carol Messinger a volunteer for LLS and a blood cancer survivor also shared the LLS Here to Help Pamphlets with the center. It warmed Carol's heart to know that she was part of this wonderful partnership between Subaru and LLS. Together with Ertle Subaru, LLS and Dale and Francis Hughes Cancer Center we were able to brighten a patient's day!
---
LLS Donation - Nicole S
Ertle Subaru is excited to give back to their community with The Leukemia & Lymphoma Society. Stop in during the month of June to join them in sending messages of hope to those fighting cancer at the Hughes Cancer Center. They are proud to be one of the many retailers showing their commitment to supporting health and wellness causes. Help them collect as many messages of hope as possible for those fighting cancer in our community. Stop in today to also learn more about how you can help The Leukemia & Lymphoma Society.
---
Pleasant Valley High Loves Their Wildlife Habitat - Ann P
We are thankful to Ertle Subaru, in conjuction with the National Wildlife Federation, for making our indigenous garden possible here at Pleasant Valley High School. The opportunity to get rid of invasive species, provide shelter for birds and toads, while beautifying the campus with native plants has been a wonderful process for students, teachers, and administrators. We look forward to maintaining and expanding on what we've started this year. An environmentally conscious learning experience, graciously sponsored by Ertle Subaru, is the type of activity that we value. The impact of what we do here will reach beyond our campus and inform our stewardship of the Earth as we move forward.
---
Ertle Subaru's Community Commitment to United Way - Michael A
Ertle Subaru and United Way of Monroe County have something in common: an unwavering dedication to improving the lives of people in our community. Through their annual Share the Love campaign and their partnership with United Way of Monroe County, the Ertle family is demonstrating their commitment to supporting individuals in need. This year the Share the Love campaign totaled $7,778. In addition, Ertle made a local contribution of $2,500, bringing the total contribution over $10,000. With a mission of building partnerships to improve lives, United Way of Monroe County is using funds from this campaign to bring community leaders and local agencies together to connect people in need with services in our community. Our recently conducted community needs assessment showed that many low-income families in need in our community are eligible for existing federal, state, or locals services, but they are either not aware of the services, enable to access them because of issues like transportation, or they simply do not know how to navigate the paperwork to enroll in available programs. Share the Love funds are being used to improve our community's information and referral system that will better guide thousands of families in need towards a better life. United Way of Monroe County deeply appreciates the strong support and continuing partnership of Ertle Subaru in Monroe County, as we continue to work together to create meaningful change in our community.
---
Subaru Loves Learning Book Drive - August 1-31 - Molly M
Join us in our Subaru Loves Learning initiative during the month of August! We are partnering with the American Association for the Advancement of Science (AAAS) in donating science books to the Stroudsburg Area Elementary Schools. All of the books that will be donated have been recognized by AAAS as some of the best science books in their field. Contact us to learn more information.
---
April 1-30, 2015 E-Waste Recycling Event - Molly M
Throughout the month of April, we are hosting an E-Waste Recycling Event in our store to collect unwanted electronics. We've arranged to work with a company who will responsibly collect, re-purpose, and recycle your electronic waste. Help us protect our environment. Just show up with your E-Waste and we'll do the rest! The first 50 customers who contribute will receive a complimentary environmental badge of ownership. We will accept: LCD Monitors, Cell Phones, Laptops, Tablets, CRTs up to 40", Video Games/Consoles, Fax Machines, DVD/VCR Players, Printers, Computer Peripherals, Switches/Routers, Cords and Wires.
---